Our Story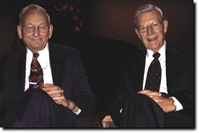 Ohnward Bancshares Inc. was formed in 1967 by John W. Fagerland and Edward L. Tubbs. John and Ed had personally purchased controlling interest in Maquoketa State Bank in 1966.
A year later they formed a bank holding company and transferred their stock ownership of MSB into the new company. Ed and John selected the unusual spelling of "Ohnward" by combining the latter portions of each of their first names.
Today, Ohnward owns 100% of Maquoketa State Bank, First Central State Bank and Ohnward Bank & Trust and has reached total assets of $1.3 billion. Other financial offices of Ohnward Bancshares Inc. include Ohnward Insurance Group and Ohnward Farm Management. Affiliated offices include LPL Financial in Clinton, DeWitt and Ohnward Wealth & Retirement in Maquoketa, and the real estate agency, Central Realty.
Ohnward has grown through the years, but it has always maintained its local ownership and operation. The principal shareholders are members of the Tubbs and Fagerland families and participants of the Ohnward Bancshares Inc. Employee Stock Ownership Plan. The remaining 100 Ohnward stockholders reside in Eastern Iowa.

"Every day we will make a positive difference in the financial lives of everyone we touch."