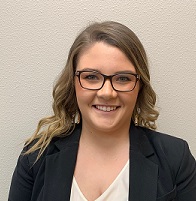 Trust Operations Specialist
Sadie does an excellent job of providing client service to our trust clients each day while directing phone calls, settling executed trades, posting securities income, and reconciling and balancing cash daily. Sadie rarely has the same day twice and she has mastered scanning documents to clients' files. In addition to her daily operational tasks, Sadie is involved within the bank serving on various committees and participates in community activities as well.
Sadie attended Iowa State University and received her Bachelor of Science Degree in Agricultural Business with a minor in Agronomy. She joined FAS in December of 2019 and has been able to apply knowledge and skills obtained throughout her two and a half years at ISU to her position.
Sadie resides in Delmar with her boyfriend, Wade Gerlach, and their puppies, Dolly and Otis. In her free time, she enjoys working out at the local YMCA, crafting, playing with her dogs, and spending time with friends and family. We are very excited to have Sadie on the team and are eager to see what the future holds for her.