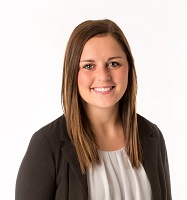 Trust Operations Specialist
When visiting Ohnward Financial Advisor Services, you will experience Nicole's cheerful personality as she greets clients, receives and directs phone calls, posts, reconciles and balances client accounts. Nicole also works to preserve important records by efficiently organizing, tracking and scanning all client documents.
Nicole started in 2017 as the bank recptionist, then joined the FAS team shortly thereafter. Nicole graduated from the University of Iowa in 2017 receiving her BA.
In her spare time, she enjoys playing volleyball; so much that she is the head coach for the Maquoketa High School Girls' Varsity Volleyball team. When Nicole finds time away from volleyball practices and games, she enjoys spending time with her family and friends.